Soup
Ingredients:
2 (14.5 oz)Cans diced tomatoes
2 Cups chicken broth
10 or so Basil Leaves
4 tbsp unsalted butter
1/4 cup whipping cream
1/2 tsp salt
Ground black pepper to taste
Directions:
In a pot on the stove, bring diced tomatoes and chicken broth to boil, then simmer 30 minutes. Puree with basil in blender or with immersion blender. Return to pot, then add butter, whipping cream, salt, and pepper. Return to simmer. Serve.
Cook: 25 m
Ready In: 40 m
Recipe By:Marci Stohon
From Marci: "This is a soup that will keep you warm during a long, cold winter!"
Ingredients
2 tablespoons butter
1 cup finely chopped onion
4 cloves garlic, minced
4 cups chicken broth
1 (2 pound) butternut squash - peeled, seeded, and cut into 1-inch pieces
2 teaspoons curry powder
1 teaspoon salt
1/2 teaspoon ground cumin
1/4 teaspoon cayenne pepper
1/2 cup half-and-half
2 tablespoons honey
1/4 cup sour cream, or to taste (optional)
Directions
Melt butter in a large pot over medium heat. Cook and stir onion and garlic in hot butter until softened and browned, 10 to 15 minutes.
Stir chicken broth, squash, curry powder, salt, cumin, and cayenne pepper into onion mixture. Bring mixture to a boil, reduce heat to low, and simmer until squash is tender, about 15 minutes. Remove from heat. Stir half-and-half and honey into squash mixture.
Pour squash mixture into a blender no more than half full. Cover and hold lid down; pulse a few times before leaving on to blend. Puree in batches until smooth. Ladle soup into serving bowls and top with a dollop of sour cream.
ALL RIGHTS RESERVED © 2017 Allrecipes.com
Printed From Allrecipes.com 11/13/2017
Prep:
15 m
Cook:
35 m
Ready In:
50 m
Recipe By:
Kaeli L
"This delicious Thai-style soup has coconut milk, shrimp, mushrooms, and spinach. Chicken may be substituted for the shrimp; either way, I love this soup anytime!"
Ingredients
2 ounces rice noodles (pad thai noodles)
1 tablespoon olive oil
1 clove garlic, minced
1 1/2 tablespoons minced lemon grass
1 teaspoon ground ginger
2 teaspoons red curry paste
1 (32 ounce) carton chicken broth
2 tablespoons soy sauce
1 tablespoon white sugar
1 (13.5 ounce) can reduced-fat coconut milk
1/2 cup peeled and deveined medium shrimp
1/2 cup sliced mushrooms
1 (10 ounce) bag baby spinach leaves
2 tablespoons fresh lime juice
1/4 cup chopped cilantro
2 green onions, thinly sliced
Directions
Bring a large pot of lightly salted water to a boil. Add rice noodles and cook until al dente, about 3 minutes. Drain and rinse well with cold water to stop the cooking; set aside.
Heat oil in a large saucepan over medium heat. Stir in garlic, lemon grass, and ginger; cook and stir until aromatic, 30 to 60 seconds. Add the curry paste, and cook 30 seconds more. Pour in about 1/2 cup of the chicken broth, and stir until the curry paste has dissolved, then pour in the remaining chicken stock along with the soy sauce and sugar. Bring to a boil, then reduce heat to medium-low, partially cover, and simmer 20 minutes.
Stir in coconut milk, shrimp, mushrooms, spinach, lime juice, and cilantro. Increase heat to medium-high, and simmer until the shrimp turn pink and are no longer translucent, about 5 minutes.
To serve, place some rice noodles into each serving bowl and ladle soup on top of them. Garnish each bowl with a sprinkle of sliced green onion.
Original Recipe Link HERE
From Stop & Smell the Rosemary (Junior League Houston)
Ingredients
½ cup ( 1 stick) unsalted butter
2 large onions, chopped
2 cloves garlic, minced
4 large carrots, peeled and chopped
1 large russet potato, peeled and chopped
6 red bell peppers, roasted (page 40), peeled, seeded, and chopped
2 firm pears, peeled, cored, and chopped
5 cups chicken stock
1 tablespoon chopped fresh parsely
salt
freshly ground pepper
creme fraiche or sour cream
fresh Italian parsley sprigs
Directions
Melt butter in a large saucepan. Add onion and garlic and sautee 10 minutes. Add carrots and saute an additional 10 minutes. Add potatoes & bell peppers and saute 10 minutes. Add pears, chicken stock, and parsley. Bring to a boil. Reduce heat. Simmer uncovered 20 minut, vegetables are tender. Season with salt and pepper. Transfer in batches to food processor or blender. Process until smooth.
Ladle soup into individual bowls and garnish with sprigs of parsley.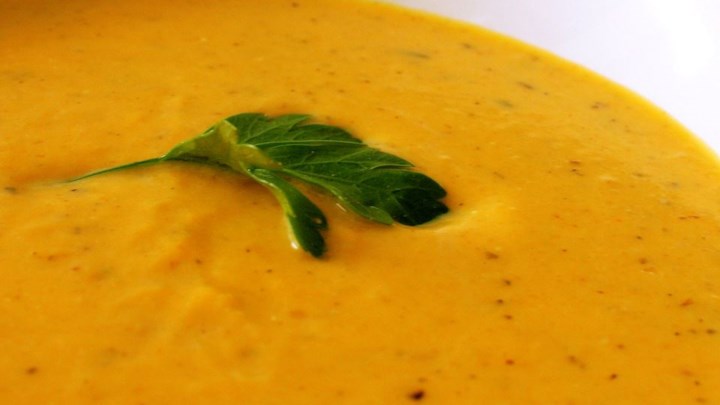 Prep:
25 m
Cook:
35 m
Ready In:
1 h
Recipe By:
Mary
From Mary: "Delicious and very easy to make. You can use 3 to 4 cups of chicken broth instead of the water and bouillon cubes. Also works well with half as much cream cheese if you don't want it too rich."
Ingredients
6 tablespoons chopped onion
4 tablespoons margarine
6 cups peeled and cubed butternut squash
3 cups water
4 cubes chicken bouillon
1/2 teaspoon dried marjoram
1/4 teaspoon ground black pepper
1/8 teaspoon ground cayenne pepper
2 (8 ounce) packages cream cheese
Directions
In a large saucepan, saute onions in margarine until tender. Add squash, water, bouillon, marjoram, black pepper and cayenne pepper. Bring to boil; cook 20 minutes, or until squash is tender.
Puree squash and cream cheese in a blender or food processor in batches until smooth. Return to saucepan, and heat through. Do not allow to boil.
Read more here.